Office

Refurbishment
Once all the designs, documentation and costs have been approved, your office refurbishment will begin. You'll be assigned a dedicated site manager to oversee the project and ensure you are kept up to date with progress. They'll also be responsible for ensuring that your finished workspace is a true reflection of the agreed design.
As part of our refurbishment services, we specialise in the supply and installation of the following: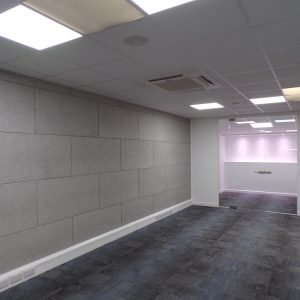 a full range of partitioning, including glass, solid, soundproofed and moveable types
workplace signage
flooring
glass, film and blinds.
No workplace refurbishment is complete without electrics, IT and plumbing. We cover all these, including: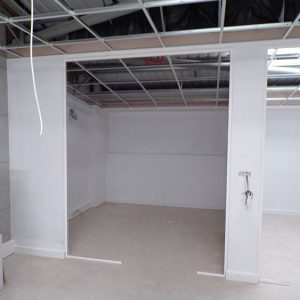 general building works
power and IT installations
fire alarms and smoke detectors
heating systems
air conditioning systems
When we have completed the refurbishment, we then walk the site with you, to ensure all areas are to your satisfaction. We'll also make sure you have all the maintenance and operations manuals for any equipment we've installed.

Management
Project Management
When you're planning an office refurbishment or relocation, the last thing you want to worry about is juggling multiple suppliers, contractors, budgets and deadlines. With Interior Concepts Ltd, you don't need to worry about a thing.
Our end-to-end project management service is one of the things we're proudest of. At Interior Concepts Ltd, we take responsibility for every single element of a project, starting from the very first focus meeting and only ending when you're happy with the completed work. Whether it's managing all the partners involved in a project or providing regular reports on progress, we've got everything covered.
This includes managing construction works, furniture installations, office relocation (if required) and all other elements of the refurbishment. We'll monitor and control everything through our proven programming, rigorous health and safety processes, full site documentation and critical cost planning.
Office Relocation
Relocating your headquarters can be a huge step forward for your company. But it can also be a time that's fraught with headaches, where disruption to your staff and day-to-day operations needs to be minimised. That's why office relocation is a job best left to the experts.
At Interior Concepts Ltd, we are the experts in office relocation. Our processes and schedules will ensure your office relocation project is planned and carried out in a methodical, careful and meticulous way. We cover every element of your move, including ensuring your employees are informed about and engaged in the plans, and providing a complete itinerary so you're well informed at every stage.
We can also provide storage, crate hire, a packing service, transport, and of course the set-up of your new office. We offer storage for all our clients during and after an office reconfiguration at our modern state of the art warehouse facility located in West Sussex.
Facilities Management
Our service doesn't have to end once you've moved into your new workplace. At Interior Concepts, our facilities management service means you don't need to worry about managing your workplace.
Our comprehensive facilities management service will ensure your workplace meets all legal requirements, including the Disability Discrimination Act, fire regulations and sound regulations. We'll also make sure that your office meets the highest health and safety standards by carrying out workplace risk assessments, and making any necessary changes. Our service can also cover cleaning, IT management, handyman services and general maintenance. Contact us today to find out more.